Hose Product Selection
We stock an extensive range of hose products, all available - off-the-shelf - in a selection of sizes and materials including Rubber, PVC, Nylon, PTFE & Silicone.
Unique properties, often sought after in hose, include resistance to a range of materials; including water, oil, chemicals and gases. Let us know what your hose is going to be used for and we'll ensure that we offer specialist advice and guidance, and that your order is perfectly fit for your desired purpose.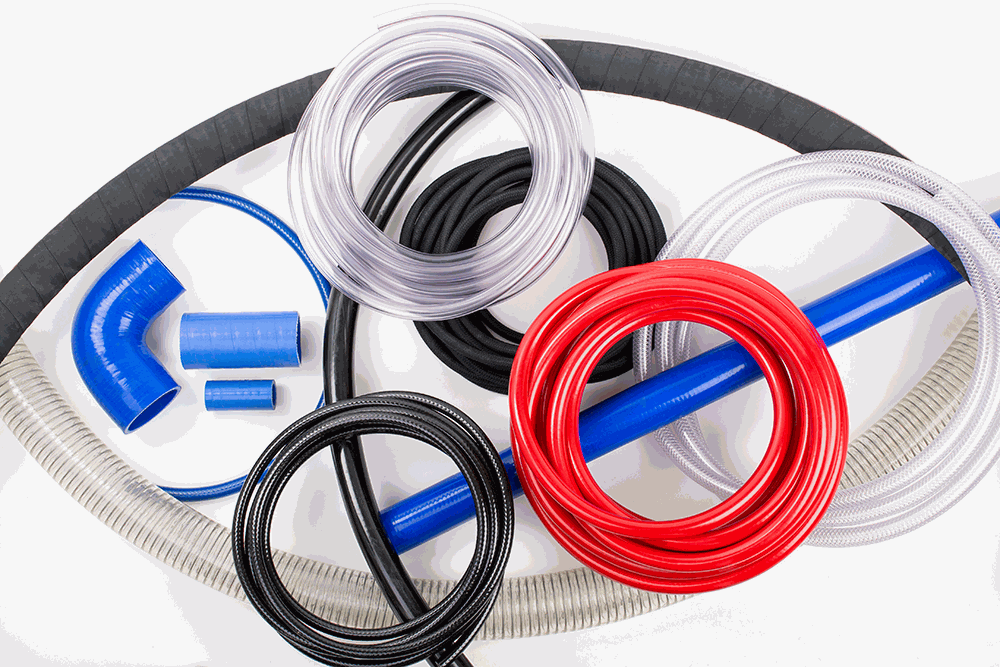 Rubber Hoses:
Oil, Air & Water Suction & Delivery Hose

Petrol and Oil Hose

Marine Fuel Hose

Radiator Hose & Bends

Silicone Rad Hose & Bends

Heater Hose

Steam Hose

Brewers Hose

Garage Exhaust Hose

Braided Fuel Hose

Air Hose

LPG Hose

Oxy / Acetylene Hose

Red & Black Bunsen Burner Hose
We also offer a range of fittings, guns and hose reels. If you'd like further detail on these, please get in touch with your requirements.
Hoses are normally reinforced products. Hoses without reinforcement are often known as 'tube'.
See our Tubing Products page for more information available tube products, including Rubber, Nylon, PVC and PTFE.
PVC Hoses:
Clear PVC

Polyester Reinforced PVC

Black / Blue / Red / White Braided PVC

Wire Reinforced PVC

Food Quality PVC

Water Delivery

Washdown Hose

Contractors Hose

Stone Hose

Green Tint

Water Delivery Hose

Medium Duty Suction Hose

Sanitation Hose

Extra Flexible Suction Hose

Air Coils

Blue & Yellow Layflat Hose

Air Hose

Tricoflex Arrouseur Hose

Asperix Hose

Aquavend Hose

Aquafit Hose

Garden Hose

Oregon Hose